Hey everyone!
 A lot of you have probably seen Avatar: The Last Airbender since it came on Netflix back in June. It's already broken several records and is the show with the highest number of days on the Top Ten list- I believe over fifty days! Which is crazy, and definitely well-deserved.
(to my credit, I liked avatar before it was trendy. but still. 😂)
During my collab with Sophie, I made her watch Avatar because it's amazing (here's the link to my post, her blog is currently down for some reason!) and she obviously loved it as well. A lot of us have watched ATLA and after watching it, craved some more of the magic that's in that TV show. It took me several months to find great TV shows with some of these qualities, and I thought I'd share it with y'all too, so you don't have to suffer like I did. 😭
Also, all of these are diverse shows! These are all shows with BIPOC and some also have LGBT representation. They're also directed to a younger audience, which means that there are no adult themes and all of these are also animated, which is great because animated shows are so underrated! 😉
P.S. These are all available in USA Netflix and I'm sure some others are available in other countries as well!
1. The Legend of Korra

Yes, technically I've mentioned this before in previous posts, but it was added to Netflix about a month and a half ago and deserves a second mention! LOK is the sequel to Avatar: The Last Airbender, which makes it the most obvious choice if you're looking for another show that's similar to ATLA. It follows Korra, the avatar after Aang, as she saves the world and masters the elements through four seasons. It's not the same as ATLA but it has its own charm and I promise it's worth a watch. It's a little more mature than ATLA, though- I'd recommend it for 11+ rather than ATLA's 7+, but I supposed everyone reading this is probably over that age 😂
How it's similar to ATLA:
Similar worldbuilding because it's located in the same universe
Bending!! 🥰
Art style is gorgeous as well
Amazing soundtrack
Diverse cast with BIPOC and LGBT representation
2. Kipo And The Age Of Wonderbeasts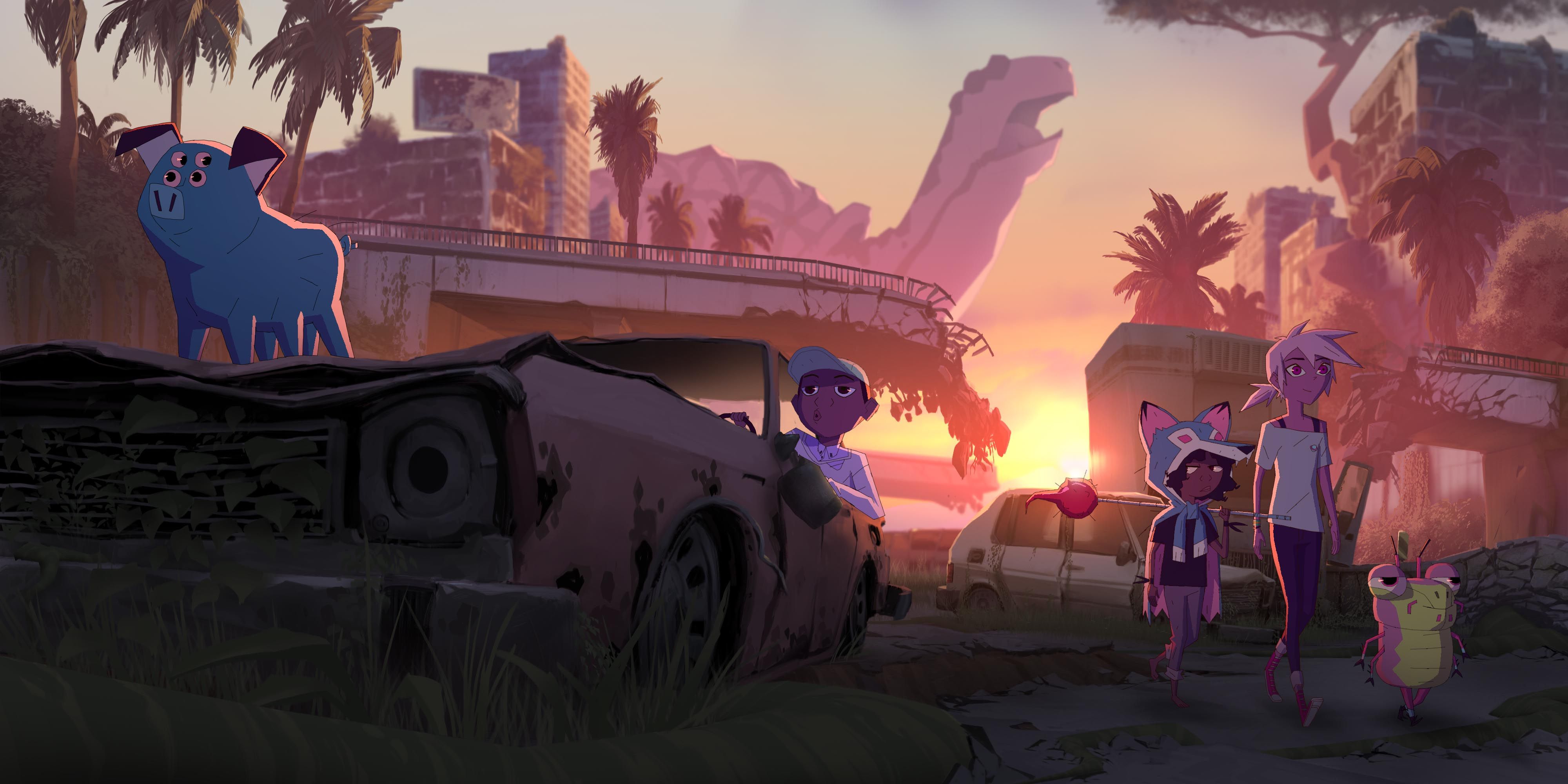 I'm not finished with Kipo, but I've got to say that it's an absolutely charming show! The show follows Kipo, Dave, Benson, Wolf, and Mandu (who's basically Kipo's pet) in a somewhat post-apocalyptic or dystopian environment with 'mutes', AKA animals but different (and a lot of them can talk) and where humans were pushed underground in burrows to survive.
Kipo is a burrow girl but she lost her way home and is now trying to get back home with the help of her new friends. Benson and Wolf are humans (yes, Wolf is a human, deal with it) but Dave and Mandu are mutes.
Anyways, I find the world very interesting and engaging! Because this is a kids show, they don't go into depth about how the world came to be, so it can be assumed that either this is dystopian or the world has always been like this.
How it's similar to ATLA:
It has beautiful artwork
There's a common and underlying theme of found family
Two animals (get it? Appa and Momo? Dave and Mandu? XD)
Some characters have magical abilities! Not bending, but still really cool.
Diverse: MC is Blasian and queercoded, side characters: Black gay boy, Black queercoded girl, and… two animals 👀
3. Glitch Techs
Glitch Techs is a super cute and funny kiddish animated show which follows Five and Miko, two really good gamers who discover that games have 'glitches' which come to life as part of the game and that glitch techs are responsible for fighting them. It's surprisingly really good and I personally loved it!
As someone who isn't a huge gamer but is really fascinated with gaming fiction and reading about gaming worlds, I loved this and it warmed my non-gamer heart 😂 Also, Five and Miko are really good characters and most of the supporting cast are also really fun to watch.
The art/animation is clean and cute and as someone who would love to get into digital art but never has the time OR the talent, it's really fun to see.
How it's similar to ATLA:
okay maybe I'm reaching a little 😅 but it gives off atla vibes!
miko reminds me a lot of aang, my sweet little babies
ally (miko's pet glitch) = appa? maybe? hm
MC Five is hispanic and MC Miko is Asian. SC Zahra is Muslim, Hameesh is Indian, and Mitch is Black.
it just gives atla vibes okay??
4. She-Ra And The Princesses Of Power
If I'm being completely honest, I haven't seen She-Ra yet 😅 but it's next on my must-watch list! let's ignore the fact that I haven't read a book in a month but I'm watching Netflix okay? I truthfully don't know much about it, but I do know that it is a ~sensation~ and it took the internet by storm. I also know it's fantasy and Catra (whoever she is- I think the blonde one) is 7 feet tall. And that she and Adora (is Adora the one on the left in the picture I added?) have an amazing romance.
Yeah, maybe I should let the people who already know it explain 🤪
Soldier Adora finds a magic sword- and her identity as the legendary hero She-Ra. She joins the Rebellion, but her best friends stays with the evil Horde.
Uh, so that didn't clear a lot of things up but it looks like this is a friends to enemies to lovers situation!! Best trope ever 😍
How it's similar to ATLA:
well, Netflix recommends it next to Avatar,,,
and it's a diverse animated show!!
and it has friends to enemies to lovers 😍
and apparently it gives off atla vibes (whatever that means. you'd know if you watch atla) although I don't really know because I haven't watched it 😅
representation: BIPOC characters and sapphic main romance
Thank you for reading this post! I hope that if you loved Avatar, you'll love all these shows as well.
If you've watched any of these shows, let me know how you liked them! Are there any other animated shows on Netflix that you recommend?
P.S. For some reason, I kept procrastinating on writing this post?? It's been in the works for two weeks now… it was supposed to go up a week ago 😅 but happy September!